Websites for Property Managers
Beautiful, SEO optimized and ADA compliant websites to grow your property management business from the industry experts at PMW.
Setup starting at $995
Monthly hosting & support starting at $99/mo
*Special pricing available only to Rentvine users.
Attract Property Owners. Grow Your Portfolio.
Grow Your Business.
We partner with our sister company, PMW, to provide the highest performing property management website in the industry built to seamlessly integrate with Rentvine.
PMW Website Setup Packages
The Smartsite
Choose a design and we'll colorize it to fit your brand.
Starting at $995
Special Rentvine Discount
Base package includes:
15 total site pages (non-custom)
Get Started
Custom add-ons available
The Advantage
Work with our team to customize a design to fit your unique brand identity.
Starting at $2749
Special Rentvine Discount
Base package includes:
Assigned Website Designer
Up to 5 custom pages
30 total site pages
Get Started
Custom add-ons available
The Enterprise
Every detail of your website is planned, designed, and built to your exact specifications.
Starting at $8495
Special Rentvine Discount
Base package includes:
Assigned Website Designer
Custom home page
Up to 15 custom inner pages
Content Clustering & Pricing Page
50 total site pages
Get Started
Custom add-ons available
PMW Monthly Hosting & Marketing Packages
Stick with The Essentials or choose one of our Upgraded Marketing Packages
Starting at $99/mo
Special Rentvine pricing on Essentials package only.
Get Started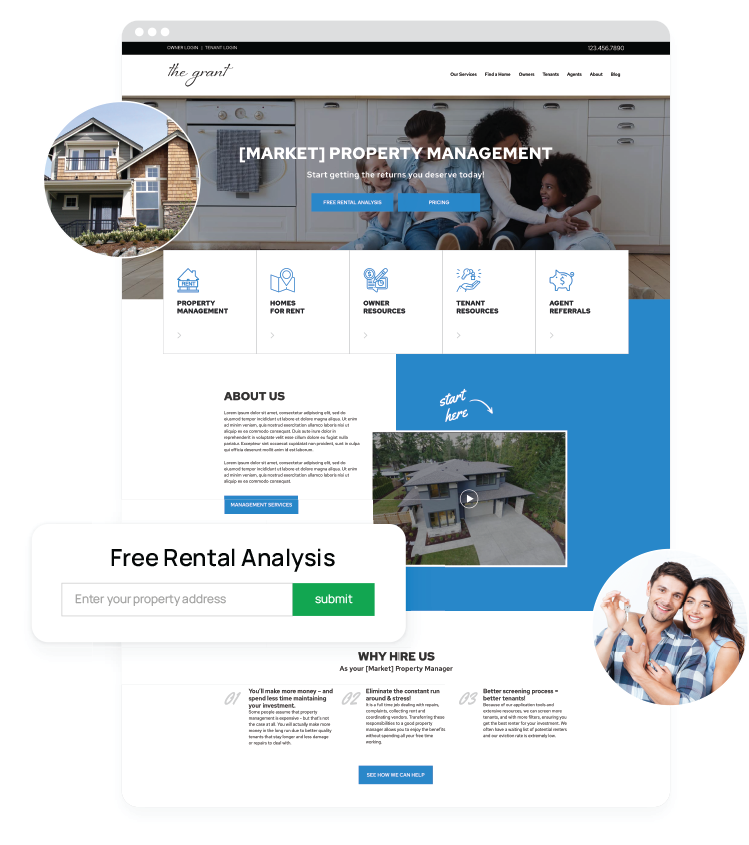 Responsive, ADA Compliant Website Designs from PMW
Your website should work for you, not the other way around. This is why every detail of a property management website built by PMW is structured to get owner leads, rank well and simplify your life!
Our Smartsite and Advantage websites each start with one of our beautiful, built-from-scratch designs. From there, you choose how custom you want your website to be.
Get Started
Explore Page Add Ons
Custom Homepage: +$250
Pricing Page: +$250
Guarantees Page: +$250
Content Clustering: +$350
Additional Custom Pages: +$250/page
Additional Non-Custom Pages: $99/page
Yes! New pages can be added to your website at any time at no charge if you are under the 15 count page limit. Additional pages over the 15 can be added at the custom or non-custom price above.
Content clustering expands on the property management lifecycle, such as marketing, tenant screening, rent collection and more. Having this type of content on your website increases keyword density and overall could improve your onsite SEO.
Get Started
Frequently Asked Questions
Our standard page layouts are what you see in each of our design examples and are included in the base price.
You can request as many custom pages as you like at an additional cost of $250/page. Each custom page will be designed and approved by you prior to build.
Yes, as long as they do not require a custom design and you are not over the total page count of 15. The pages that come standard with each design are just recommended. Additional pages over the standard 15 can be added at any time at $99/page for non-custom and $250/page for custom.
Of course! Each design will be matched to your company branding at no charge.
We will do a full analysis of your existing content, pull a content worksheet and organize for conversion and make recommendations that affect SEO, but do not write content for you. In some cases, for example content clustering, we do have some stock content that you can use and build from, or if you do not have a website, we will start you out with our stock content that you see on all our sample designs.
If you have custom pages, those will need to be designed and approved, but we can typically begin your Smartsite build as soon as you have finalized your content. A normal Smartsite build is about 7 to 10 days after content approval, and then could take a few days longer if we are adding in custom pages, but your project manager will keep you up to speed on delivery. A normal Advantage build can take about 15 to 30 business days after content approval, however, if you have opted to include additional custom pages as a part of your Advantage, the website build may be extended by a few days. Your project manager will keep you up to speed on your anticipated website completion date. For our Enterprise websites, because the majority of the website pages are custom designed, each has to be approved. We will only schedule for build once both content and designs are finalized, but a rough average is anywhere between 60 to 90 days.
Get the Highest Performing Property Management Website in the Industry.
Designed For Lead Conversion

Every PMW website has one goal - attract prospective owner clients and help you convert leads to grow your business.

Customizable to Stand Out

Work with our design team to put the finishing touches on your website to stand out from the competition.

Built to Perform

Your website is the foundation of ALL your SEO efforts. Our development team hand-codes every website ensuring the content and structure are optimized to perform.

ADA & W3C Compliant

Each website is accessible to users with disabilities & fully compliant with standards set by the World Wide Web Consortium.

Industry Specific

Our team has spent countless hours compiling statistics on what makes a great property management website. We obsess over every detail so you don't have to.

World Class Support

PMW Websites are worry free. With managed websites, you are backed by an experienced in-house support team.

Fully Mobile Responsive

We use the highest level of mobile technology which means your website will work optimally on any mobile device or browser. Anytime. Anywhere.

Advanced Marketing

Take your website to the next level with PPC, integrated chat, reputation management, automated rental analysis tools and our advanced property plugin.

Centralized Processes

We integrate Rentvine's owner & resident functions, such as portals, maintenance & online payments into your website so your business runs more efficiently.
Automate your business with best-in-class property management software.
Never miss out on another client because your software can't handle sophisticated investors.
Get Started