Manage Maintenance and Vendors With Easy Vendor Portals.
Everything you ever needed to do with your vendors is now available in Rentvine's vendor portal. Save time and money with fast and easy vendor communication.
Schedule a Demo
Streamline Your Processes With Online Vendor Management for Property Managers.
Pay Vendors Easier
Send remote bill pay or ACH to your vendors quickly and easily.
Vendor Billing History
Vendors can upload invoices and see their work history with your company.
Vendor Management
Vendors can update their insurance, bank accounts & payment methods.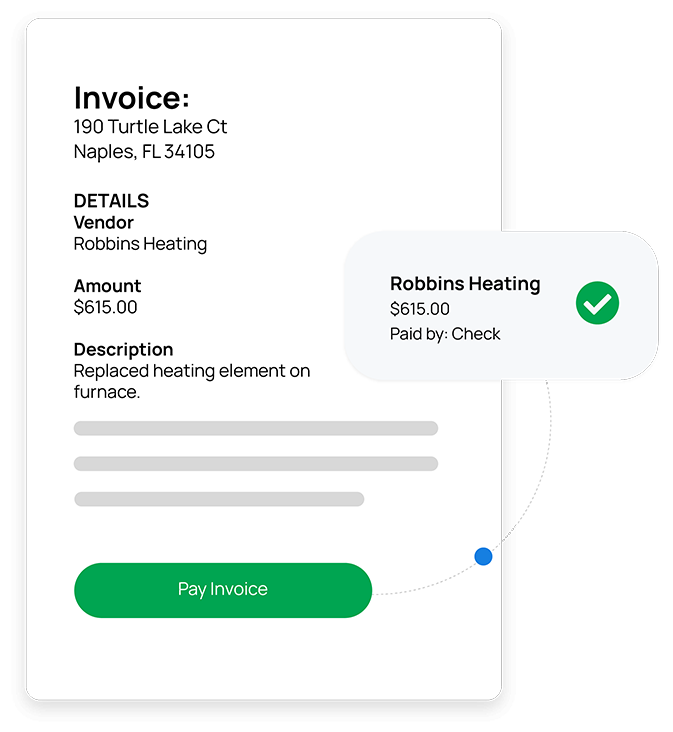 Easy Vendor Payments
Vendors can upload invoices and get paid quickly in the method they request. No more time consuming printing, or customer service.
Vendors upload their invoices to the portal, you create a bill and pay them in their preferred payment method. Save hours each month on payables.
No more calls asking if the check is in the mail. Notify vendors when you send payment, request an estimate, or create a work order that is assigned to them.
Now you can send one payment to a vendor across multiple units, properties, and even portfolios. Include hundreds of invoices in a single payment. Vendors can see a complete summary via email of every invoice included in the payment. No need to cut multiple checks or make multiple payments.
Schedule a Demo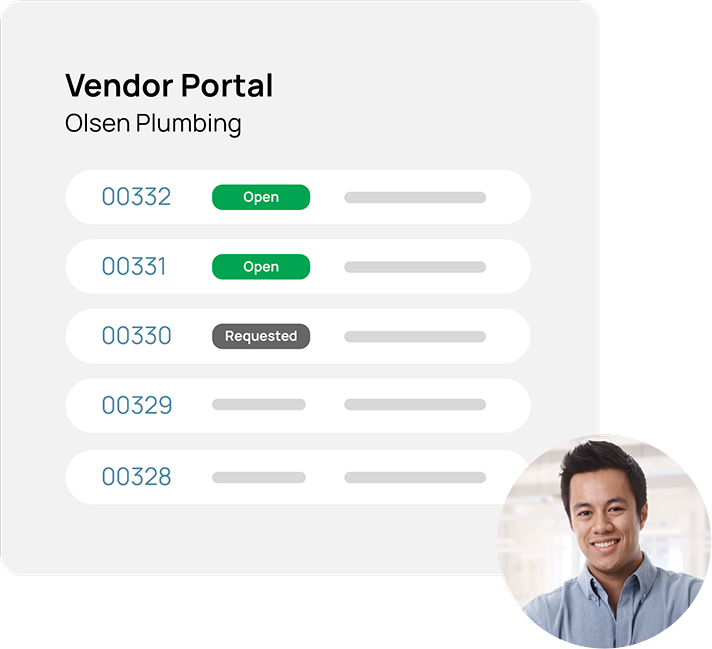 Vendor Portal Summary
Now your vendors can see everything they have done with your company simply by accessing their portal.
No more calls asking if an invoice has been paid. Every current and past bill and payment is available for vendors to see in the portal.
Vendors can upload and manage all of their insurance, licenses, bank accounts, and any other pertinent information. No more faxing, printing and filing.
Now vendors can change their address, bank account, payment methods, or any other information on their own.
Schedule a Demo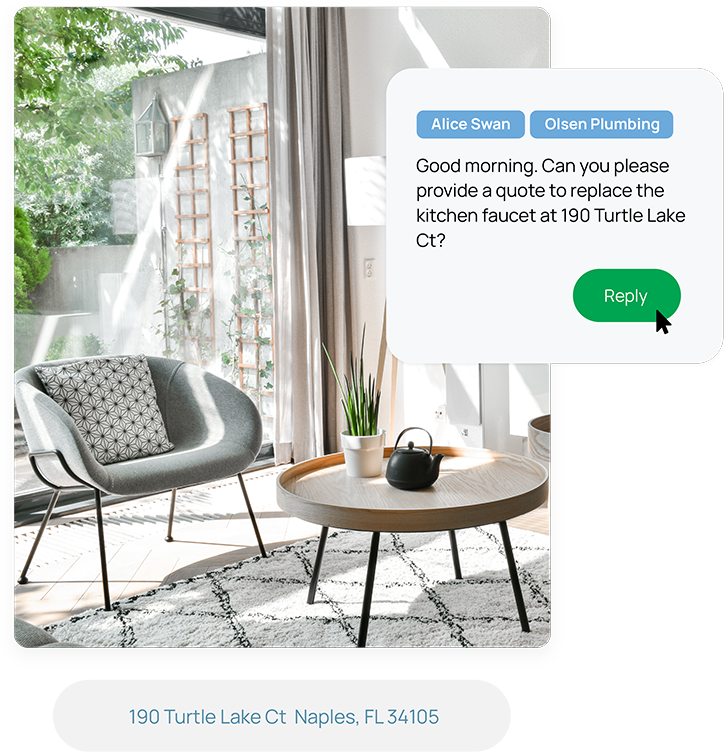 Save Time and Money With Easy Vendor Management.
Managing vendors can take forever. Once you get their vendor portal set up, they will be able to do everything they once had to do manually on their own. This is a huge time saver for property managers.
Now vendors can automatically submit invoices, get paid, and manage their work orders directly from the portal. This is a huge time savings for vendors and property managers.
Now vendors can get notified of any new work orders, any status changes, and more importantly any work orders that are behind schedule.
Vendors can now get notified if they need to give an estimate on a project and upload that information directly to the portal. Vendors will love their portal, and so will you.
Schedule a Demo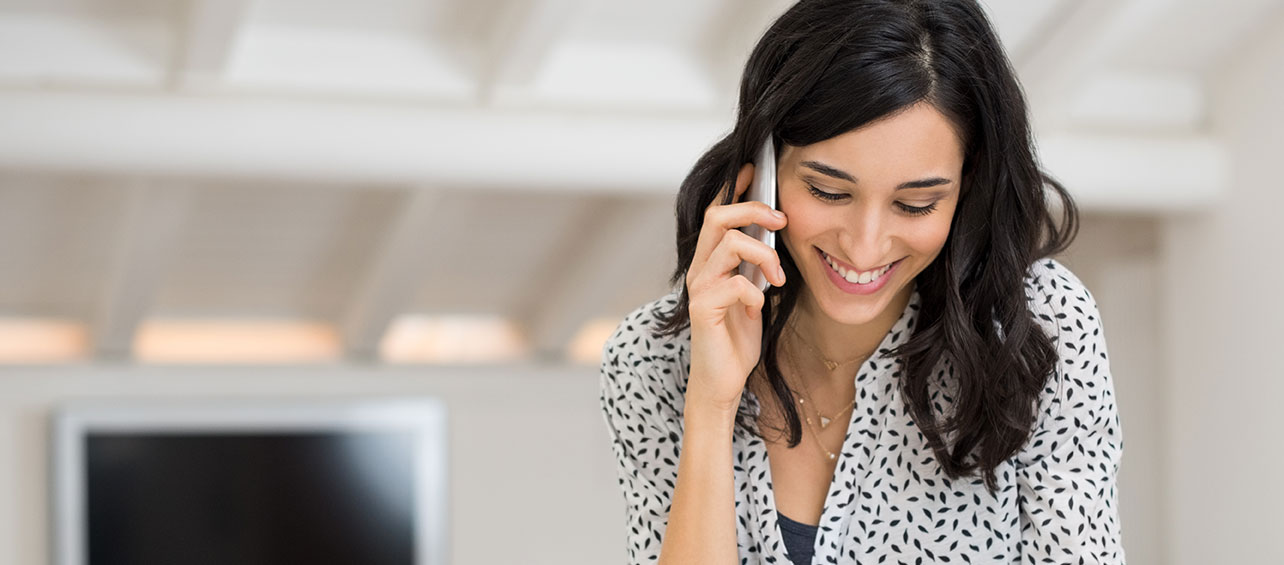 Straight Forward Pricing. No Surprises.
Pricing shouldn't be complicated. With Rentvine, pay one price and get everything included. Your life just got easier.
$1.50
Per unit per month. $199/mo minimum.
Additional fees for screening and transactions may apply.
Get Started
Easy and Professional Vendor Management for Your Property Management Clients.
Upload Invoices

Vendors can upload their invoices right to the portal. You can assign work orders, create bills and pay them automatically in whatever payment method they request.

Add Insurance and Licenses

Vendors can now add all of their liability, workman's compensation, and any other required insurance right to the portal. Any other licenses or requirements to do business with your company can be managed through the portal.

Pay Multiple Invoices for Your Vendors With One Payment

If you have vendors that work on multiple units and properties across multiple portfolios, you can pay them with just one check. No need to submit multiple payments to the same vendor.

Full Payment History

Vendors don't need to call your accounts payable anymore. All of their current and past payment history is right in their portal.

See Open Work Orders

Vendors can now see every project they have for your company, and get notified when they get a new one.

Get Paid Faster

Vendors can set up bank accounts to get paid by ACH much faster than getting a check. Don't worry, if they still need a check we can do that too. We can even do it remotely for a small fee.

Vendors Get Notified About Important Events

New work orders, payments, status changes. Notify your vendors automatically every time something happens that they need to know about.

Select Payment Methods

Vendors can select their payment methods, update information, and manage bank accounts.

Save Time and Increase Customer Service

Save hours tracking down, communicating with, and paying your vendors. Everything is automated with Rentvine.
Automate your business with best-in-class property management software.
Never miss out on another client because your software can't handle sophisticated investors.
Get Started